Defart is …
a visual programming system for sony AIBOs.
developed for writing game programs of RoboCup Soccer Four Legged League.
aimed at easy-to-use programming system for beginner.
separated into PC side and AIBO side. PC side is written in Squeak, and AIBO side is written in C++ and OPEN/R SDK.
Using Defart, You can …
write programs only by using mouse.
create AIBO motions, and use them in your codes.
get images from AIBO's camera through wireless networks, also control the AIBO remotely.
get some ideas about technics and technologies of robot programming.

Typical Programming Window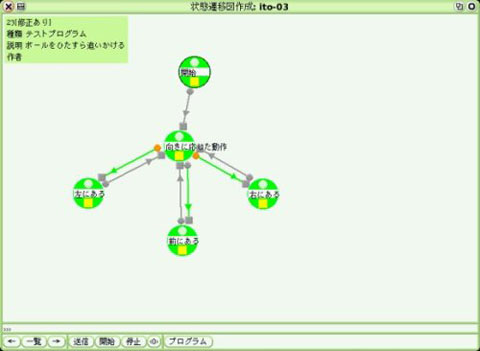 Above figure is typical programming window of the Defart system.
All programs are represented by State Transition Networks.
You can make many State Transition Networks in a program and relate to each other.
Circles mean states and arrows mean actions.
Each arrow has its condition and corresponding action.
When a condition of arrow is true, its corresponding action will be taken.
You can select conditions and actions using only mouse.
Keyboard is needed only for writing comments.
Conditions, Actions and more.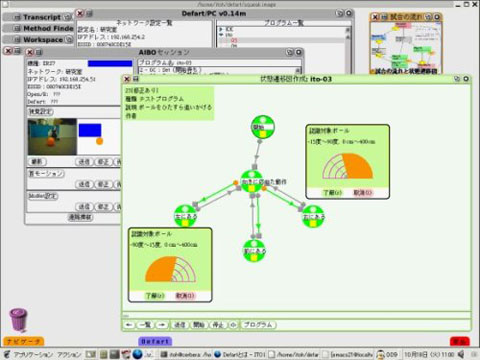 There are many conditions and actions of arrows.
Visual conditions is often used. It checks if any objects (ball, goal, marker) is specified range.
Other conditions are Timer, Counter and so on.
Actions are moving around, searching objects and changing facial expression.
If the Defart system and AIBOs are connected through the wireless connection, user can control AIBO remotely.
Required System
OPEN-R SDK 1.1.5 r3.(This service will close at May 2007.)
Squeak 2005J. (Japanese version only)
Windows, Linux (Debian), Mac OS X